Double Time! Johnson's winner in 2nd OT sends Bulls to title game
April 7, 2013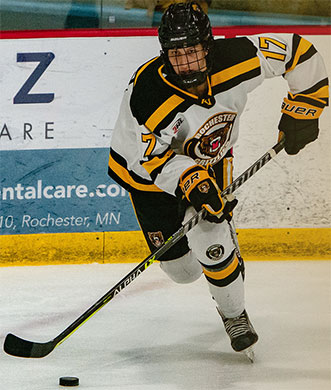 USA Hockey Tier III Junior National Semi-Finals
North Iowa Bulls 3 vs. Helena Bighorns 2 (2 OT)
It took over three hours, five periods and 75 shots, but the NA3HL's North Iowa Bulls completed a three goal comeback with a 3-2 double OT win over the Helena Bighorns on Sunday night to advance to the National Championship game on Monday at Noon against the Twin Citites Northern Lights, a team North Iowa beat in the round-robin, 5-1.
Things didn't go well for the Bulls at the start as Helena scored twice in a five minute span in the 1st period to take a 2-0 lead on goals from Christian Axelsson and Parker Olson.
The Bulls responded with a goal in the 2nd period to cut the lead to 2-1. After several good chances Matt Kroska finally put home a power play goal to give the Bulls life.
In the 3rd period, the Bulls were able to tie the game as Tim Santopoalo worked some stick-handling magic as he came into the Helena zone and was able to slip through the defense and work a shot past Helena goaltender Alex Lazarski to tie the game at 2-2.
Neither team scored in the first extra session, but in double-overtime the Bulls got their big break. James Hughes made a nice move to get around a defenseman and put the puck on net. Then Jake Johnson swooped in and put the rebound in the back of the net for the thrilling game-winner.
Both goalies were phenomenal. Helena netminder Alek Lazarski stood on his head throughout. He finished with a stunning 72 saves on 75 shots. Lazarski had 22 saves in the first overtime alone, and he had 10 more in the second overtime.
North Iowa goalie Matt Bartels matched him shot-for-shot, though. He finished with 59 saves on 61 shots. Bartels recorded 28 saves in the two overtimes.
The Bulls will face the Twin Cities Northern Lights in the National Championship on Monday at Noon.
Stay tuned to na3hl.com for all tournament and game updates as we follow the Bulls on the road to the National Championship.
Click here for the official USA Hockey website for the tournament
Watch the National Championship game live on FASTHockey
Check out photos from the event here