Team Midwest crowned 2013 NA3HL Top Prospects Champs
May 15, 2013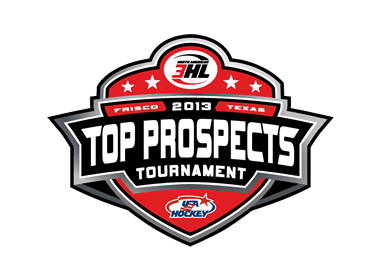 The North American 3 Hockey League (NA3HL) Top Prospects Tournament finished up this past Monday and Team Midwest walked away with the Championship. Midwest went through the event with a perfect 4-0 record as they defeated Team Ohio 5-3 in the title game.
Team Ohio actually jumped out to a 2-0 lead early in the game. Defenseman Jake Roeper (Cleveland) scored the first goal unassisted and Mike Palasics (Cleveland) added the second goal with an assist from Kevin Kenny (Three Rivers). However, Midwest was able to respond by the end of the 1st period on a goal from defenseman Simon Koscielski (St. Louis) to bring the score to within 2-1.
Midwest's big period came in the 2nd period as they scored four goals. Lukas Daniels (St. Louis) scored early on to tie the game at 2-2 with an assist to Peoria's Cory Kettler. Jason Hoehn (Quad City) scored a power play goal to give Midwest their first lead at 3-2. Then Peoria teammates Brennan Anderson and Cody Lichtenvoort scored within one minute of each other late in the period to make it 5-2.
Tom Diffendal (Three Rivers) scored in the 3rd period to make it 5-3, but that is as close as Team Ohio would get. Cleveland goalies Joe Moza (18 saves) and David Heflin (13 saves) split time between the pipes for Team Ohio, while Clint Steinmeyer (St. Louis) made 12 saves and Alex Reichle (Peoria) made 12 saves in the win.
In the consolation game, Team Minnesota got goals from five different players to beat Team Michigan, 5-3. Blake Phenow (Granite City) had a goal and two assists and Ian Ecklund (Alexandria), Chase Myers-Beck (Twin City), Tyler Reichl (Breezy Point) and Jared Sprink (Minnesota) also scored in the win. James Gleason (Michigan), Austin Hill (Metro) and Austin Sartorius (Michigan) had the goals for Team Michigan.
Peoria's Cory Kettler led the tournament in scoring with 6 points (1 goal, 5 assists) in the four games played. Jared Sprink (Minnesota) and Lukas Daniels (St. Louis) were right behind Kettler with five points each. Simon Koscielski (St. Louis) led all Top Prospects defensemen in scoring with three points. Six others had two points apiece. Midwest goalies Clint Steinmeyer and Alex Reichle led the event, both posting 2.00 goals against average and 92% save percentages.
Over 30 NHL, NCAA, NAHL and other junior scouts were in attendance at the annual event.