New Twin City Steel owners are focused
July 18, 2013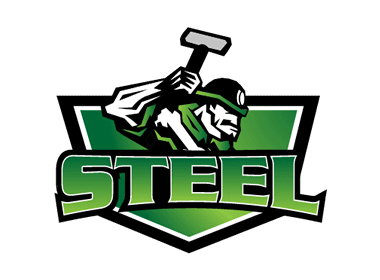 By Mark Aguirre, White Bear Press
Steve Black and his family are big hockey fans. For most hockey fans, that means watching games from their living rooms.
When the Blacks want to share the hockey experience, they invite folks to join them at the Vadnais Sports Center to watch their team, Twin City Steel, take the ice.
The Twin City Steel team is owned by the Black family since it bought it in May. Steve and his wife Becky live in Alexandria. Their sons are Bennett, 22, a senior at Minnesota State University-Mankato and Bryant, the Steel's general manager.
"I was looking for a business that my whole family could be involved in, and we applied for an expansion team (in the NA3HL) for the 2014-15 season," said Steve. "When they looked over our application, they offered us the chance to get involved right away as owners."
Bryant brings a master's degree in sports management and two years of experience with the Alexandria Blizzard of the NA3HL to his responsibilities with the Steel.
Entering their fourth season, the Steel play in the North American 3 Hockey League (3HL), one of six USA Hockey-sanctioned Tier III junior leagues. The league serves as one of the premier training grounds in the country by providing quality coaching, exposure and developmental for student-athletes.
It's all about opportunities. The league is geared to provide a chance for a young player to catch the eye of a coach or a scout and move on to play at the collegiate level or higher-level professional teams in the U.S. or even the world.
"We had one of our guys play with Moscow in the KHL," offered Steel head coach Aaron Koosmann. "On any given night there might be a number of scouts in the stands."
Last weekend more than 40 players from across the country were on hand for Steel tryouts. They took part in a number of games, then all-star games, and the seven goalies were put through drills afterward.
"We have about 10 to 12 players back from next season, and we are looking to fill our 25-man roster," said Koosmann.
About half the players stay with host families during the season. Bryant Black said the organization is always looking for families to serve as compensated hosts.
The Steel will play all home games at the Vadnais Sports Center, considered one of the premier hockey facilities in the NA3HL and in Minnesota.
The main arena has seating for 1,300 plus fans. The center also plays home to White Bear Lake Hockey, Northern Educate Hockey and several other hockey-playing organizations.
"We have a great atmosphere for the fans," said Black. "The fans sit right on top of the action, and they can interact with the players after the games. The games are a lot more physical and quicker than prep games. The Vadnais Sports Center is the home to the White Bear Lake boys and girls hockey teams, and we'd like (the Steel) to be their big brothers."