Bulls Hanson makes Kenai River roster in NAHL
August 6, 2013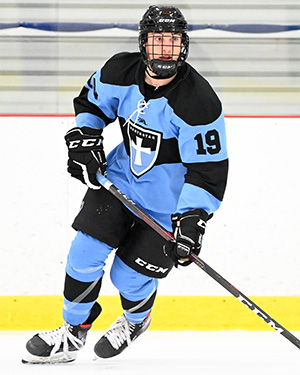 By Jeremiah Bartz, Mat-Su Valley Frontiersman
After signing with the Kenai River Brown Bears in the spring, Chancie Hanson knew he'd have a great chance to play for the North American Junior A Tier II Hockey organization in the fall. The former Wasilla High standout also knew he couldn't rest on his laurels.
But now it's official.
On the final day of the team's main camp in Inner Grove Heights, Minn., Monday, Hanson was told he had a spot on the roster and will play for the Brown Bears.
"It's unbelievable," Hanson said by cellphone from Minnesota before boarding a flight to Alaska Monday afternoon. "It's a pretty unreal feeling right now."
After spending months waiting for the chance to earn his spot, Hanson said he's excited to be a member of the Brown Bears.
"I had it in my head I knew what it took, it came down to putting in the work," Hanson said. "Maybe a little bit of luck, too."
Hanson said he competed in four regular games and a pair of all-star games during the Brown Bears' main offseason camp, which started last Friday in Minnesota.
"The first four games I was a little rusty, having not played at a high level in a while," Hanson said. "The all-star games came around, luckily enough, the first one I really found my groove. Higher intensity, higher speed, I really got to play my game."
By landing with Kenai River, the 19-year-old defenseman continues his ascent up the hockey ladder. After graduating from Wasilla High School in 2012, Hanson earned a chance to play for the Junior A Tier III North Iowa Bulls of the NA3HL. He became a regular on the Bulls blueline, played in 29 regular season games and helped North Iowa win a 2013 Junior A Tier III national championship.
Hanson said the Kenai River coaches liked that he had the championship experience. "It's huge to have that experience, going all the way and winning it all," Hanson said.