22 in 22 Series: Flint Junior Generals
August 23, 2013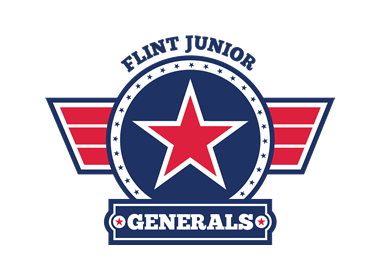 The 22 in 22 series features an in-depth look into all 22 teams in the NA3HL for the 2013-14 season, with a new team being highlighted daily, leading all the way up until the start of the regular season on Saturday, September 7th as four NA3HL teams take to the ice on Opening Night.
22 in 22 will go in-depth into each NA3HL team and will include interviews with all 22 head coaches in the NA3HL, as they provide fans with their expectations and outlook for the 2013-14 season, including taking a look at their roster and their strengths as a team for the upcoming season.
It will also take a look back on the 2012-13 season and how each team fared and what they accomplished. Best of all, 22 in 22 is done to provide the fans of the NA3HL with an inside look at their favorite team and what to expect.
Flint Junior Generals
Head Coach: Steve Howard
2012-13 Record: 27-17-2-2, 58 Points (3rd, East Division)
2012-13 Leading Scorer: Jacob Howie (21 G, 33 A, 54 P, +23)
Playoffs: Went 0-2 at 2013 Silver Cup; Defeated Three Rivers 3-0 in East Division Semi-Finals
2013-14 Division: East
First Regular Season Game: Sat, September 14th, 2013 8:30 PM at Cleveland
Home Opener: Sun, September 22nd, 2013 2:30 PM vs. Metro Jets at Flint Icelands
Head Coach Steve Howard's first season with the Flint Junior Generals was a successful one as he guided his team to a North American 3 Hockey League (NA3HL) Silver Cup berth after finishing 3rd place in the East division last season.
Led by the scoring of Jacob Howie (54 points in 42 games) the Flint attack was balanced despite a lot of player movement during the season that ultimately ending up contributing during their Silver Cup playoff run.
Mid-December was the first tough situation the Generals had to deal with as top forward and assistant captain Lucas McDiarmid to the Corpus Christi IceRays of the North American Hockey League (NAHL). Coach Howard looked back and was happy with how his team dealt with adversity. "After the loss of Luke, our team regrouped and we managed to add some talent like Jacob Peacock, which ended up helping us make it to the Silver Cup made it an extremely successful year."
The outlook for Generals in 2013-14 is bright, but one returning player is what Coach Howard says is "the biggest piece of the puzzle" to the success of this season. That player is 19-year-old goalie Anders Franke, who posted a 13-4-1 record last season with a stellar 2.04 Goals Against Average (GAA).
"I think he deserves to be at a higher level," Coach Howard said about his returning goalie, "but we are happy to have him back in Flint and we feel we are solid with him in net." Franke won't have to worry too much as Coach Howard feels that they have reloaded on the offensive side of the puck and that will be a strength of the 2013-14 team.
Going into his second season as coach of the Generals, Coach Howard feels that having the full off-season to recruit for his team has been beneficial. "I have been able to build this team on my own. Being able to do my own scouting and home work has given me the chance to bring in my own guys that I want to be a part of the franchise." He is also quick to thank the management for the talented team he was left with at the beginning of last season, but is excited to start with his own recruits.
Returning a starting goalie and being able to recruit throughout the summer, the Flint Junior Generals are starting the season with the expectations of returning to the Silver Cup tournament, but this season they are looking for a different result, a result that has the Silver Cup returning with them to Flint.
Next up in the 22 in 22 series: Granite City Lumberjacks