22 in 22 Series: Granite City Lumberjacks
August 24, 2013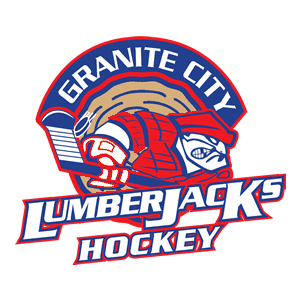 The 22 in 22 series features an in-depth look into all 22 teams in the NA3HL for the 2013-14 season, with a new team being highlighted daily, leading all the way up until the start of the regular season on Saturday, September 7th as four NA3HL teams take to the ice on Opening Night.
22 in 22 will go in-depth into each NA3HL team and will include interviews with all 22 head coaches in the NA3HL, as they provide fans with their expectations and outlook for the 2013-14 season, including taking a look at their roster and their strengths as a team for the upcoming season.
It will also take a look back on the 2012-13 season and how each team fared and what they accomplished. Best of all, 22 in 22 is done to provide the fans of the NA3HL with an inside look at their favorite team and what to expect.
Granite City Lumberjacks
Head Coach: Brad Willner
2012-13 Record: 36-8-1-3, 76 Points (2nd, West Division)
2012-13 Leading Scorer: Drew Otto (23 G, 40 A, 63 P, +32)
Playoffs: Went 1-1 at 2013 Silver Cup; Beat Alexandria 3-1 in West Division Semi-Finals
2013-14 Division: West
Home Opener: Fri, September 13th, 2013 7:30 PM vs. North Iowa at Rhino Deck Arena
Following up a season in which the Granite City Lumberjacks took home the inaugural North American 3 Hockey League (NA3HL) Silver Cup was a tough task, but Head Coach Brad Willner and his team put up an even better regular season record earning Granite City another Silver Cup Tournament berth. Led by All-NA3HL 2nd Team Forward Drew Otto and October NA3HL Defenseman of the Month Matt Peterson, the Lumberjacks finished 2nd in the West division with an impressive 76 points.
The three top leading scorers for the Lumberjacks offense were rookies last season and stepped up big for a team that needed to retool their offense. "We lost a lot of veteran players, but our rookie class came in and exceeded expectations," Coach Willner said.
Leading the charge into the 2013-14 season will be the team's top scorer Otto and Aidan Verbeke, the team's 2nd leading scorer last season. In addition to returning the firepower up front, Coach Willner will have both goalies returning to a veteran-filled and experienced front line and crease for Granite City
The biggest question mark according to Coach Willner will be his experience on the blueline. "We advanced four of our defensemen onto college hockey last season so we will be returning only two veterans," said Willner. He is confident that his defensive core will progress as the season goes on. "It's a long season and there will be learning curves in the beginning, but our philosophy is to build from the net out and we have a lot of confidence in our returning goalies Scott Murray and Austin Wilson."
Playing in the West division is something that Coach Willner does not overlook and expects tough games out of each opponent this season. "Any given night a team in our division can beat anyone. The high level of competition is what makes this league so great and creates better hockey players, which is what college coaches are ultimately looking for."
To begin the season Willner stated that there aren't any specific goals that he will be setting for the team to achieve, but everyone in the locker room knows what they are striving for. "We want to put ourselves in the best possible situation for the playoffs and earn a Silver Cup tournament berth. Naturally, we would love to go on to Nationals and try and win a National Championship."
Returning their top four leading scorers with two experienced goaltenders, the Granite City Lumberjacks will have all of the right tools to have an impressive season and will remain a threat all year at winning their second Silver Cup in the past three years.
Next up in the 22 in 22 series: McKinney Warriors