22 in 22 Series: Metro Jets
August 26, 2013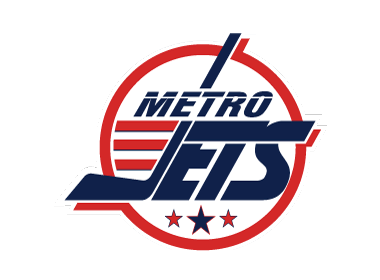 The 22 in 22 series features an in-depth look into all 22 teams in the NA3HL for the 2013-14 season, with a new team being highlighted daily, leading all the way up until the start of the regular season on Saturday, September 7th as four NA3HL teams take to the ice on Opening Night.
22 in 22 will go in-depth into each NA3HL team and will include interviews with all 22 head coaches in the NA3HL, as they provide fans with their expectations and outlook for the 2013-14 season, including taking a look at their roster and their strengths as a team for the upcoming season.
It will also take a look back on the 2012-13 season and how each team fared and what they accomplished. Best of all, 22 in 22 is done to provide the fans of the NA3HL with an inside look at their favorite team and what to expect.
Metro Jets
Head Coach: Jason Cirone
2012-13 Record: 22-23-3-0, 47 Points (5th, East Division)
2012-13 Leading Scorer: Matt Stirling (22 G, 51 A, 73 P, +19)
Playoffs: Did Not Qualify
2013-14 Division: East
First Regular Season Game: Fri, September 7th, 2013 7:30 PM at Pittsburgh
Home Opener: Sat, September 14th, 2013 7:50 PM vs. Cincinnati at Lakeland Arena
After earning a playoff berth in the previous season, the Metro Jets had high hopes to build on that success and take a step forward into the upper echelon of the North American 3 Hockey League (NA3HL). However, in 2012-13, the Jets season did not go as planned as they finished fifth in the East division, earning 47 points during the regular season, which was 13 points less then their 2011-12 campaign.
Head Coach Jason Cirone summed up his team's season last year by saying that the coaching staff and the players were, " disappointed and frustrated that it did not meet their expectations." Cirone noted that a number of serious injuries depleted the roster early in the season, but saw his team make a late season push for the playoffs, winning nine of their last 15 games, but came up just a few points short.
Coach Cirone is confident his team will have a bounce back year because of the veterans that are coming back to the team. "We are going to be an older team this year," Cirone said. "Our boys are going to be better prepared, both mentally and physically, for the long season."
Making their way back to the playoffs will be a challenging task as the Metro Jets are a part of a tight East Division, and Coach Cirone is aware of the strong competition and environments that come playing in the division. "Every road trip you have a tough building to play in night in and night out."
Expectations are simple around the Metro Jets locker room this season as Cirone wants his players to keep their consistency through the entire season. "We will be preaching consistency to the team this year. As long as we are sticking to our system, we are confident that our consistency will lead us back to the playoffs."
The sooner the season begins, the sooner this storied junior franchise will get a chance to show that last season was not the norm and they can return to making the playoffs and their playoff berths will be just like what Coach Cirone wants their play to be like this year, "Consistent."
Next up in the 22 in 22 series: Michigan Mountain Cats