Bulls players move onto the NAHL
August 30, 2013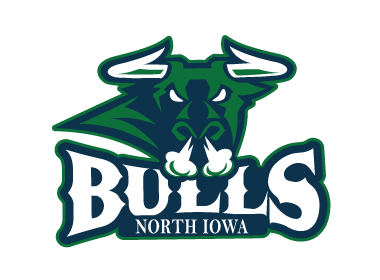 The North Iowa Bulls had an historic season a year ago capturing USA Hockey's Tier III junior national title. The benefits of that achievement have resulted in eight previous or current players catching a ride to start the season in the NAHL.
There were a host of players from last years squad that were tendered by NAHL teams. Brandon Anderson a sizable and formidable forward was tendered by the then Texas Tornado. Brandon has been offered a spot on the Lone Star Brahmas training camp roster after competing at their main camp a weekend ago.
Chancie Hanson from Wasilla, Alaska earned the opportunity via tender as a result of a strong showing at the Kenai River Brown Bears pre-draft tryout. Chancie parlayed that spring performance into a main camp selection that brings him back to play in his home state of Alaska.
Sun Prairie, Wisconsin native Jake Johnson accepted a tender from the Minot Minotauros shortly after the Bulls wrapped up their National Tourney honors. Jake was a catalyst in that tourney as he netted the 2 OT winner in the semi-finals. Jakes solid performance at the "Tauros" main camp earned him a spot to start the season in Minot.
Staying with the theme of providing meaningful scoring at an important time. Conor Jonasson who netted the game winning goal in the National Championship game recently made the Rio Grande Killer Bee's at their main camp.
Kyle Krueger from Prior Lake, Minnesota has the potential of a high end player in the NAHL and was tendered by the expansion Minnesota Magicians.
Defenseman Bryan McFarlane was drafted by and made the Soo Eagle's. Bryan is a tough customer who will be sure to be seen patrolling the blue line of the 2013 North Division Champions.
Richie Marenis made great strides with the North Iowa Bulls after starting the season with the 2013 Robertson Cup Champion NAHL Amarillo Bulls last year. Richie was a force at the Amarillo main camp and again will start with Amarillo. If he stays healthy look for Richie to be a solid offensive performer.
Jordan Deckard rounds out the list of Bulls players starting the season in the NAHL. Jordan recently signed a NA3HL contract with North Iowa after playing elsewhere last year. Jordan was a dynamic player at the North Iowa main camp and it is no surprise that he has made an NAHL team. Jordan will be joining Brandon Anderson in Texas with the Brahmas.
The North Iowa Bulls and the NA3HL wish each of these dedicated young men much success with their new teams.