22 in 22 Series: Peoria Mustangs
August 30, 2013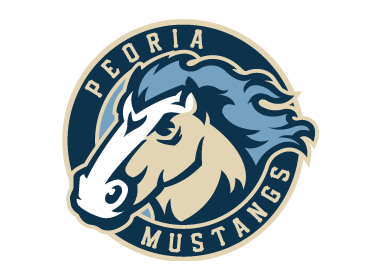 The 22 in 22 series features an in-depth look into all 22 teams in the NA3HL for the 2013-14 season, with a new team being highlighted daily, leading all the way up until the start of the regular season on Saturday, September 7th as four NA3HL teams take to the ice on Opening Night.
22 in 22 will go in-depth into each NA3HL team and will include interviews with all 22 head coaches in the NA3HL, as they provide fans with their expectations and outlook for the 2013-14 season, including taking a look at their roster and their strengths as a team for the upcoming season.
It will also take a look back on the 2012-13 season and how each team fared and what they accomplished. Best of all, 22 in 22 is done to provide the fans of the NA3HL with an inside look at their favorite team and what to expect.
Peoria Mustangs
Head Coach: Steve Ortman
2012-13 Record: 26-18-2-2, 56 Points (2nd, Central Division)
2012-13 Leading Scorer: Brennan Anderson (20 G, 25 A, 45 P, +28)
Playoffs: Went 2-1 at 2013 Silver Cup (Lost in Final to North Iowa); Beat Quad City 3-0 in Central Division Semi-Finals
2013-14 Division: Central
Home Opener: Sat, September 14th, 2013 7:05 PM vs. Chicago at Owens Center
There is a new era beginning in 2013-14 for the Peoria Mustangs of the North American 3 Hockey League (NA3HL). Gone is the logo that has been synonymous with the franchise since its inception in 2001. Also departed is former coach Jean-Guy Trudel, who has accepted the Head Coaching position with the Southern Professional Hockey League's Peoria Rivermen.
The man in to replace Trudel is Steve Ortman, an individual that has served in numerous positions with the franchise and a person team owner Paul Wayvon calls, "the definition of a Peoria Mustang."
Coach Ortman is left with a team that came within one game of winning the NA3HL Silver Cup, losing in the final to North Iowa, but the Mustangs are losing a major asset that helped them reach that far in the playoffs. NA3HL Goalie of the Year and All-NA3HL 1st Team selection Michael Parda will be moving on to college hockey and leaves a major hole for the Mustangs.
Ortman understands that his team will be younger than previous years, but is ready to "start over" with his new guys and implement a new belief into his players. "I want our players to believe that no other team will work as hard as we do," Ortman said. "We want our physical fitness to become an advantage over other programs."
Easing in the new young players will be a tough task for Coach Ortman and newly hired assistant coach Ryan Klusendorf, but the coaching staff has expectations for the team that will help keep pressure off the younger kids. "Our goal each year is to be around the .500 mark at Christmas. After Christmas is when our conditioning really shows and that's when we make our late season run," Ortman continued."We hope to turn what were first half season losses into second half wins."
Being with the franchise since its inception, Ortman is proud of the rivalries that the Mustangs have built with division rivals and seeing those teams across the ice brings something special out of his team. "The rivalries we created are huge for us," Ortman said. "They are the kind of rivalries that make you want to battle week in and week out."
With a brand new logo and a new leader behind the bench, the Peoria Mustangs are gearing up for another successful season in the NA3HL. Even with all of the new changes surrounding the franchise fans should expect to see good hockey on the ice and playoff hockey come March.
Next up in the 22 in 22 series: Pittsburgh Vengeance