22 in 22 Series: Twin City Steel
September 5, 2013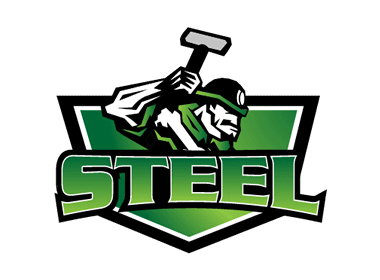 The 22 in 22 series features an in-depth look into all 22 teams in the NA3HL for the 2013-14 season, with a new team being highlighted daily, leading all the way up until the start of the regular season on Saturday, September 7th as four NA3HL teams take to the ice on Opening Night.
22 in 22 will go in-depth into each NA3HL team and will include interviews with all 22 head coaches in the NA3HL, as they provide fans with their expectations and outlook for the 2013-14 season, including taking a look at their roster and their strengths as a team for the upcoming season.
It will also take a look back on the 2012-13 season and how each team fared and what they accomplished. Best of all, 22 in 22 is done to provide the fans of the NA3HL with an inside look at their favorite team and what to expect.
Twin City Steel
Head Coach: Aaron Koosmann
2012-13 Record: 19-26-1-2, 41 Points (5th, West Division)
2012-13 Leading Scorer: Tom Bartel (20 G, 28 A, 48 P, -2)
Playoffs: Did Not Qualify
2013-14 Division: West
First Regular Season Game: Sat, September 14th, 2013 8:00 PM at St. Louis
Home Opener: Sat, September 27th, 2013 7:30 PM vs. Alexandria at Vadnais Sports Center
After coming on strong after the Christmas break, the Twin City Steel narrowly missed out on the North American 3 Hockey League (NA3HL) playoffs during the 2012-13 season. Head Coach Aaron Koosmann has reloaded his team during the offseason with an experienced blue line, an added scoring punch and deeper goaltending that should spell success for the Steel in 2013-14.
Led by the scoring touch of 20-year old Tom Bartel, who netted 48 points during the regular season, the Steel put together 41 points earning a fifth place finish in the difficult West Division. Despite missing the playoffs the Steel were successful at moving their players onto the next levels of hockey, including a commitment to an NCAA Division III program as Marvin Powell committed to Bethel University for the upcoming season. Powell, a 20-year old Forward from Jackson, Mississippi, scored 30 points in 48 games last season for the Steel.
In addition to the commitment from Powell, forward Calvin Miska signed a tender with the Wichita Falls Wildcats of the North American Hockey League (NAHL). Miska, 19, was apart of Team Minnesota for the NA3HL Top Prospects tournament and is apart of Wichita Falls 25-man protected list for the 2013-14 Season.
Coach Koosman was very positive when talking about Miska. "I am proud of Cal. He is 100% focused on playing college hockey. His off Ice commitment to his development is off the charts. He is highly coachable and will do just fine in the NAHL playing for the Wildcats. This opportunity is well deserved and I am sure Cal will make the most of it. I wish him all the best."
For the 2013-14 season Coach Koosman believes his team will benefit from a number of returning defensemen that bring a veteran feel to the team. Complementing the veteran blue line core will be an upgraded forward unit that Koosmann thinks will add a nice scoring touch for the Steel. "We have added some high end prospects through trades, drafts and the tenders we have signed that will bring a scoring punch."
Koosmann credits the ownership staff for letting him go out and bring in the recruits that he feels will take his team to the next level. "We have good solid ownership for the future, who are dedicating a lot of time to the team. They are helping us provide amenities for players such as gym memberships and chiropractic services that help attract players to the Twin Cities."
Rebuilding a team each year is something Koosmann considers a success because that means his players have moved on to College and higher-level junior hockey. "Our goal is to move players on to the next level. This year we have some older guys we want to move into college and some higher end younger players we only expect to have for one year. If we have to reboot our talent each year then we know we are doing our job."
Coach Koosmann is expecting his team to be competitive and win consistenly in the NA3HL this season and rebooting his talent through all aspects of transactions, Steel fans should look forward to seeing a high level of hockey in the Twin Cities area this season.
Next up in the 22 in 22 series: Wisconsin Whalers