Flint blanks Michigan 9-0 in lone game on Wednesday
September 26, 2013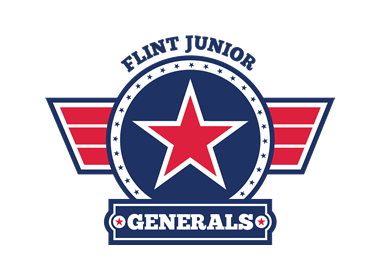 Michigan Mountain Cats 0 @ Flint Junior Generals 9: The Flint Junior Generals continued their hot start to the season, winning their fourth game of the year, defeating the visiting Michigan Mountain Cats, 9-0.
The Junior Generals started quickly on Michigan goalie Walker Bass as Flint forward Austin Fletcher scored just 1:19 into the game in an unassisted effort. Fletcher was not done as he added two assists in the 1st period to cap off a four-goal period for the Junior Generals.
Flint goaltender Anders Franke had a calm night, stopping all 13 shots that came his way.
After a Cam Jorgensen goal in the 2nd period, the Junior Generals exploded for four more goals in the 3rd period to put the game out of reach. Justin Fisher started the scoring in the third at 9:34 assisted by Jacob Lainessse and Jacob Drinkard.
The Junior Generals then proceeded to score three more tallies in the next six minutes. First, Jorgensen added his second of the night followed by a Jacob Lainesse goal scored on a penalty shot. Finally, the Junior Generals finished their scoring by the man who started it as Fletcher added his second on the night.
Flint forward Jacob Lainesse was an impressive +7 in the win. Mountain Cats Goalie Walker Bass played admirably in defeat stopping 40 shots on the night. The Junior Generals have now picked up a point in all five games during the regular season.