NA3HL announces monthly player awards for September
October 2, 2013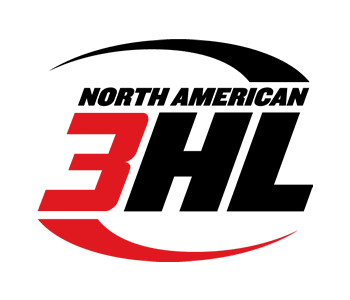 The North American 3 Hockey League (NA3HL) has announced its monthly player awards for the month of September. The Easton Hockey NA3HL Forward of the Month is Austin Fletcher from the Flint Junior Generals. The Easton Hockey NA3HL Defenseman of the Month is Mitchell Gwost from the Granite City Lumberjacks. The Brian's Custom Sports NA3HL Goaltender of the Month is Clay Horvath from the Toledo Cherokee. Only players who are nominated by their respective teams are considered for the NA3HL monthly awards.
Easton Hockey NA3HL Forward of the Month: Austin Fletcher, Flint Junior Generals
Flint Junior Generals forward Austin Fletcher, 19, is off to a torrid start this season. The three-year NA3HL veteran and native of Adrian, Michigan, leads the league with 13 points in just seven games played. It is no coincidence that Flint is off to their best start in several years with a 6-0-1 record and sitting atop of the NA3HL's East Division. Fletcher (5'10/178) also leads the NA3HL in assists with 10 and is tied for 2nd in the league with a +9 rating. Not to shy away from the physical part of the game, Fletcher also ranked 6th in the league with 26 penalty minutes to date. All of it makes Fletcher a true all-around player who has registered 74 points in 98 career NA3HL regular season games. "Austin really understands how to play at this level. He has evolved into a player that poses a dangerous offensive threat that also can be physical as well," said Flint head coach Steve Howard. "He worked really hard in the off-season to become an elite player. He has gotten faster, his hands are better and he has a quicker release. We are very happy to have him playing well and on the roster."
Runner-Up: Aidan Verbeke, Granite City Lumberjacks
Honorable Mention (alphabetical): Cody Black, Pittsburgh Vengeance – Thomas Clayton, Cincinnati Swords – Jason Hoehn, Wisconsin Whalers – Drake Hunter, Alexandria Blizzard – Andy McGlynn, St. Louis Jr. Blues – Tyler Zalecki, Toledo Cherokee
Easton Hockey NA3HL Defenseman of the Month: Mitchell Gwost, Granite City Lumberjacks
The Lumberjacks have had a great tradition of producing top-notch defensemen and it appears that they have another developing star this season in 19-year-old Mitchell Gwost. The native of Sauk Rapids, Minnesota, is in his second year with the Lumberjacks after recording 16 points in 40 games last season. Through six games this season, all of them in September, Gwost (5'10/185) leads the NA3HL in scoring for defensemen with 10 points (2 goals, 8 assists). He has registered a point in every game this season and is also a +6. His eight assists to date ranks 3rd among all NA3HL players. This past weekend was Gwost's best to date as he recorded five points in two Granite City wins. "It is nice to see a local guy have success like Mitchell has. We expect a lot of out him from a leadership perspective," said Lumberjacks head coach Brad Willner. "He has evolved his game to be a well-rounded player where he is very effective both offensively and defensively."
Runner-Up: Conner McGovern, Flint Junior Generals
Honorable Mention (alphabetical): Clayton Janecke, Wisconsin Whalers – Kyler Omey, Toledo Cherokee – Adam Roeder, St. Louis Jr. Blues – Tim Weisgerber, Cincinnati Swords
Brian's Custom Sports NA3HL Goaltender of the Month: Clay Horvath, Toledo Cherokee
18-year-old netminder Clay Horvath had an immediate impact after joining the Cherokee earlier this month. The Lewis Center, Ohio native started and won his first two games of the season, which both came in September. Horvath (5'11/160) has stopped a combined 61 of 64 shots so far this season. His 95.3% save percentage ranks 4th in the NA3HL and his 1.44 goals against average ranks 3rd. Both of his wins came in a weekend sweep of Cleveland back on September 20th and 21st. "Although Clay just joined our club, he has settled in very nicely with our group and is playing really good hockey," said Toledo head coach Kenny Miller. "We feel Clay has the ability to be an elite goalie in the NA3HL. Even though he is in his first year of juniors he has looked very comfortable in net and I would expect him to continue to get better as the season goes along."
Runner-Up: Austin Wilson, Granite City Lumberjacks
Honorable Mention (alphabetical): Anders Franke, Flint Junior Generals – Artie Haase, Cincinnati Swords – Billy Hindle, St. Louis Jr. Blues – Michal Marcinek, Wisconsin Whalers
About Easton
Easton Hockey continues to rank atop the industry in sticks and gloves and is growing faster in skates than any other company. It also offers a comprehensive collection of protective gear including helmets and pants. To learn more, go to www.easton.com
About Brian's Custom Sports
The Official Goaltending Equipment Supplier of the NAHL, Brian's has been a leading Canadian supplier of custom-built goal equipment since 1984. As one of the original and remaining custom goal equipment manufacturers Brian's remains committed to continuing to lead the industry with exceptional design and quality. Visit Brian's online at www.goaliesonly.com