Mustangs help launch Stuff-a-Bus
October 18, 2013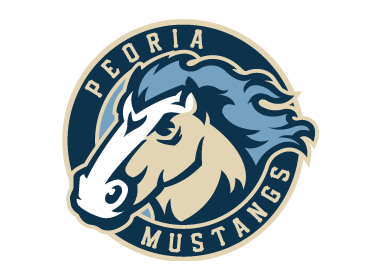 Hunger is a growing problem in Illinois, said Illinois Deputy Gov. Cristal Thomas, in Peoria for the kickoff of CityLink's Stuff-A-Bus food collection program. The guest speaker at Wednesday's kickoff luncheon at the Gateway Building in Peoria, Thomas serves as co-chair of the Illinois Commission to End Hunger.
The NA3HL's Peoria Mustangs attended the Stuff-a-Bus Kick-off Lunch on Wednesday to help spread awareness of the cause. Stuff-a-Bus is an annual campaign to collect non-perishable food items to benefit the food pantry at the Peoria Friendship House.
During November, the public is encouraged to purchase and donate food items at participating Peoria-area Kroger stores. The Stuff-a-Bus food drive started 26 years ago with a partnership between CityLink and the Peoria Friendship House. The event helped the Peoria Friendship House to distribute over 52,000 meals to those in need in the Peoria area.
The Mustangs help the Stuff-a-Bus campaign in a number of ways and this season the team will also be having a "Stuff-a-Bus Night" at the November 9th home game against Wisconsin Whalers. Fans can bring in a can of food or other non-perishable food item to the game and get a special gift courtesy of CityLink.
The commission, created in 2010 to reduce hunger in Illinois, estimates that 1.8 million Illinois residents don't know where their next meal will come from, with close to 745,000 of those being children.
"Shelters across the state have all seen increases in the demand for food. We're seeing hunger now in suburban locations, not just among the homeless and unemployed," she said. "One of our goals is to raise awareness. People don't like to talk about the problem. We're trying to reduce the stigma of hunger," said Thomas.
"This is a good event for a good cause. We want to celebrate what's happening here," she said of the Stuff-A-Bus campaign that's operated since 1987 with CityLink, Kroger and Peoria Friendship House working together to fill a transit bus with food that's distributed during the year through the Peoria Friendship House Food Pantry.
"The Stuff-A-Bus program can have a huge impact. Having a partnership is important. It takes individuals, businesses and philanthropies to collaborate," said Thomas.