North Stars see improvement thanks to duo
October 21, 2013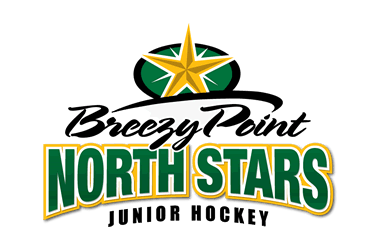 By Jonah Lazerine, Brainerd Dispatch
The story of Kyle Whipple and Crosby Steen crossing paths is an unlikely one.
It's also the backbone of a second year North Amiercan 3 Hockey League franchise.
Following the Breezy Point North Stars' inaugural season that consisted of only four wins in a 6-month schedule in 2012-13, they sit in third place in their division with a 2-7-1 record through this season's first month of play.
The fuel for Breezy Point's improvement can be traced back to two North Stars veterans in particular — Captain Crosby Steen and assistant captain Kyle Whipple.
Neither player was in a leadership role in the Stars' first season and took different routes to a roster spot leading up to the inaugural 2012-13 season.
For Steen, 19, success on the ice wasn't abundant in his career before junior hockey.
"I played the bench," said Steen, a 2012 Moorhead High School graduate who picked up the game at the age of 5. "I only had one career varsity goal, so I thought that I was just going to go to college and focus on that. Then my dad suggested I try to play for a NA3HL team. I loved the game so I went for it."
This led Steen to an open tryout for the Stars, a team he decided on due to proximity.
"It was the closest to home," said Steen, who officially joined the Stars' roster in summer 2012.
On the other hand, Whipple, also 19, was used to success. The 2012 graduate of Chelsea High School in Michigan was a part of two state tournament teams in three varsity seasons. As a junior he was one of only three underclassmen in Chelsea history to earn assistant captain honors and was given the team's Hustle and Motivation award.
This led Whipple to a Michigan recruiting showcase in the spring of 2012 in which he tallied 11 points in three games on his way to being one of only 20 players to earn wide recruitment.
Breezy Point was the first franchise to reach out to Whipple.
"I knew it was going to be tough as a team because they were in their inaugural season," he said.
The prediction was correct as Breezy Point's team, consisting of all rookies, finished with a 4-43-1 record in 2012-13.
Despite the poor record, Stars players still managed to build chemistry over the course of the season.
Read the rest of the story
here
.