Williams brings stability, leadership to Cats' blue line
October 23, 2013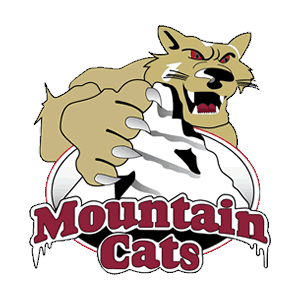 Michigan Mountain Cats' veteran defenseman Chris Williams has played in the North American 3 Hockey League for four seasons and is especially enjoying his time this year.
After skating in 23 games a year ago for the Mountain Cats, Williams attended several North American Hockey League camps in the offseason and even had offers from teams in the Minnesota Junior Hockey League.
Humbling? Sure, but at the end of the day, Williams went with what he felt was the best choice.
"It was an easy choice playing for Coach (Chad) Grills this season," said Williams. "On a personal level, I feel like I am playing good hockey and am already doing better than last season, but there is definitely room for improvement. On a team level, I feel like we have had more downs than ups, but we are just coming off a huge weekend split in Pittsburgh, so things are looking up."
A captain this year in Fraser, Williams said that the mood and camaraderie amongst his teammates is second to none.
"This is my fourth year in the league and fifth in juniors and with Coach Grills giving me a letter on my jersey, I feel like I fit in well with the boys," said Williams, a 19-year-old Davison native. "We're always cracking jokes in the locker room with each other and having fun. I feel like I help keep the locker room mood light. With us starting out kind of in a slump, we have to come in to the locker room prepared to work everyday, but can't get down on ourselves because we still 5-6 months left in the season.
"I feel like once we fill the couple missing links in our locker room, we will be one of the leaders of the division. We have shown at times this season we can play with the leaders of our division and once we get over the hump, we will be fine."
Williams' take of getting started playing hockey is like most – it involves family.
"My dad, Richard, coached me and my brother, Nick, growing up until we were 14-15 years old and my dad would let me come out onto the ice at my brother's practices and I fell in love with the game," Williams remembered. "Then my dad signed me up for a learn to play hockey class at Mountain Cats owner Jeff Brayan's old arena (Ice Mountain) by my house and since then, I've loved playing the game.
"My biggest influences on hockey have definitely been my dad and my brother. With my dad coaching me since I was four, he definitely is my biggest influence. My brother has been playing minor pro for the last six years and I actually lived with him when he was playing for the Battle Creek Revolution when they had a professional team and I was playing for their junior team (in 2010-11) – that was definitely special. Every night for a season he was helping me."
Williams remained in Battle Creek to play for the Jr. Revolution in 2011-12 (pictured above) and then started last year in the MnJHL before joining the Mountain Cats last December.
Aside from his half-season last year with the Mountain Cats, Williams also played for the organization back in 2009-10 when the team skated in the Continental Hockey Association.
With all of his junior hockey experience, even with one year left of eligibility next season, Williams wants to move on in 2014-15.
"I plan on playing college hockey next season," boasted Williams. "How I will get there is listening to Coach Grills, working my tail off on and off the ice and staying healthy for the rest of the season."