Flint edges Toledo in shootout on Wednesday
October 24, 2013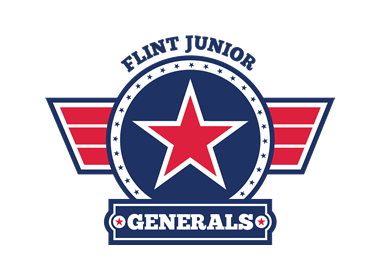 Toledo Cherokee 2 @ Flint Junior Generals 3 (SO): The Flint Junior Generals ran into the hot goaltending but finally broke through in the shootout to take the victory 3-2 over the Toledo Cherokee in the lone NA3HL game on Wednesday night.
Flint fired 53 shots on Toledo goaltender Aaron Callan, who made 51 saves in the shootout loss. Both of the Generals goals came within 20 seconds in the 2nd period when Connor McGovern beat Callan at with :48 seconds left in the middle frame then again when Reno De Hondt struck a mere twenty seconds later.
Dominic Antonelli scored early in the 3rd period for the Cherokee to force the extra period.
The teams went scoreless in overtime forcing the shootout. Zach Koonce went first for the Generals and beat Callan with a fancy backhand fake then bringing the puck to his forehand and finding the open net. Zachary Armstrong scored on his attempt but Conor Durgan fired the puck through the five hole of Callan to give Flint the victory.