Former Mustangs coach Trudel ready to make pro debut
October 25, 2013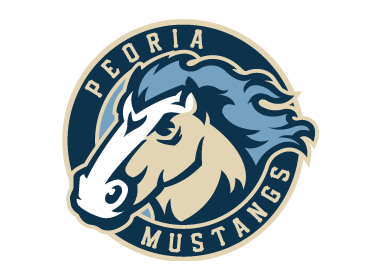 By Dave Eminian, Peoria Journal Star
Former NA3HL head coach Jean-Guy Trudel will become the only man to be on the Peoria Rivermen bench in three different eras when the 32-year franchise begins its Southern Professional Hockey League voyage Friday.
He played for Peoria's inaugural ECHL team in 1996-97 and 1997-98, then returned from Europe to play for its AHL version in 2007-08.
And now he'll begin his pro coaching career when the Rivermen open the 2013-14 season at Bloomington.
"It's perfect, I was a rookie pro as a player with Peoria and now I'm starting my coaching with the same team," Trudel said. "I sit here in this chair and think about all the guys who have sat here in this office with this job in the past — Paul MacLean, Mark Reeds, Davis Payne, Bob Plager all went on to coach in the NHL and legends here like Jason Christie and Pat Kelly.
"I'm just a little guy from Quebec. It's humbling. I can't believe this happened to me, and I'm so excited."
He is driven by the job. How much? "I love to draw up practice drills and work on systems, design plays," Trudel said. "My wheels are always turning. People will laugh at this, but I have a dry erase board at home -- next to my bed. I wake up during the night and I start drawing stuff on there."
Trudel, 38, moves into the job at the same time Bruce Saurs, at age 87, returns to the game as part of the ownership group that kept pro hockey alive in central Illinois after the Blues bolted in the spring.
"When I got to Peoria in 1996 to join the ECHL team, Mr. Saurs was the one who greeted me," Trudel said. "So there I was early this summer, and I'm at a Rivermen Alumni meeting, and Mr. Saurs walked in and told me, 'You're going to be our head coach.' I had no idea. I never thought I'd get an opportunity."
Trudel has embedded himself in the community for some time, with his wife, Amy, and son Tristan. He has served as coach, GM and now part-owner of the Tier III junior hockey Peoria Mustangs of the North American 3 Hockey League (NA3HL). He has been a stalwart in the youth hockey community with his annual hockey school.
And now he gets to develop players at a level far higher than anything he's ever worked with. He has a lot to share.