Granite City tops Minnesota, 7-1 on Monday
November 12, 2013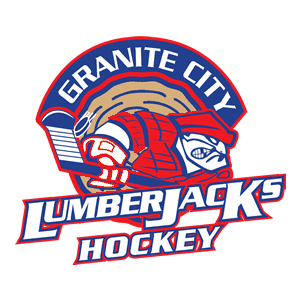 Minnesota Flying Aces 1 @ Granite City Lumberjacks 7: In a rare Monday game on Veterans Day, the Granite City Lumberjacks rode the offensive firepower of Luke Richardson, who tallied a hat-trick and an assist, to beat the Minnesota Flying Aces 7-1.
The rest of the Lumberjacks lightened the offensively including an equally big game from Zach Voss, who scored the opposite of Richardson getting three assists and a goal. Voss scored in the 1st period along with goals from Billy Warren and Gavin Porter. Granite City led 3-0 after the 1st period.
Richardson scored all three of his goals in the 2nd period, along with a goal from Mitchell Gwost. The Flying Aces lone goal was scored by defenseman Blake Anderson, who leads all Minnesota defenseman with seven points. Granite City led 7-1 after the 2nd period.
There was no scoring in the 3rd period as Granite City outshot Minnesota 38-14 in the game. Scott Murray made 13 saves in the win, while Mike Stumpf took the loss for the Flying Aces, making 31 saves.
This victory gives the Lumberjacks a 13-3-0 record good enough for 1st in the West Division. The Flying Aces lost their 9th straight game and sit in last place in the West Division with a 2-13-0 record.