Flint tops Michigan on Wednesday, 7-3
November 13, 2013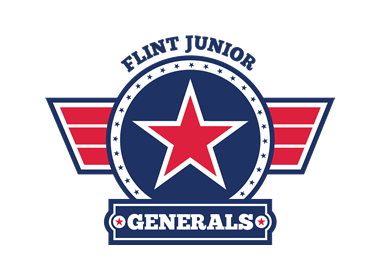 Michigan Mountain Cats 3 @ Flint Junior Generals 7: With every win the Flint Junior Generals scoot closer to history and tonight after picking up a 7-3 win over the Michigan Mountain Cats the Generals are one win away from tying the longest winning streak in NA3HL history. Mark McGee and his Generals teammates took care of business with the man advantage getting four power play goals.
The 1st period ended in a tie as both team struck on the power play with Brett Leppek scoring for Flint and Kade Morrison getting the tally for Michigan. The opening frame was just a preview of what was to come for Michigan goaltender Kevin O'Shea, who saw 14 shots fired at him in the period.
The Junior Generals must have found their scoring sticks in the first intermission because Flint came out on a mission in the middle frame. Mark McGee sparked the offense just two minutes and change into the period. Cody Wright gave Flint a two goal lead 15 seconds after McGee rattling the Michigan Mountain Cats as they took a slashing penalty not long after. Cue Mark McGee, who ended up with a hat trick on the night, and the stellar Flint power play as McGee struck for his second of the night. Flint and Michigan would trade goals before heading into the locker room.
Michigan started the comeback bid early when Zach Collins beat Anders Franke on the power play to bring the lead to two. The Junior Generals have proven they know how to protect and increase a lead and that's exactly what they did as Mark Vansaw Jr. and Mark McGee scored to seal the game and the Junior Generals 18th win in a row.
Michigan goaltender O'Shea ended the night with 35 saves in the loss and Anders Franke continues his great year picking up his 10th straight win on 18 saves.